Next year marks the 100th anniversary of the establishment of Moshav Nahalal, the first moshav that was built on territory that became part of the State of Israel. In the years that followed the founding of Nahalal, in the Jezreel Valley, another 450 moshavim were established, and currently, around 200 thousand people reside on them. Today, as Coronavirus brings family-life back home, to the center of social living, there is a growing trend among wealthy families to return to the moshavim, where living on a private estate in Israel becomes reality.
In a small and dense country like Israel, only a moshav can give a grand sense of living on a private estate in Israel. During the early 20th century, under the British Mandate of Palestine, the first moshav, Moshav Nahalal was created, as part of the Zionist state-building program, as a unique form of settlement, intended for agriculture. Thousands of dunams of land were divided between several dozen families, where each family received a "nahala" (farm), and the areas were developed into cooperative agricultural communities. In contrast to collective farming on kibbutzim, farms on a moshav were individually owned, with profits from crops and goods going directly to the owners of the land on which they were produced.
Today, a nahala on a moshav includes (i) a 2.5 dunam residential area, on which up to three residential units may be built; (ii) an adjacent area of between 10 to 15 additional dunams intended for agricultural use; and (iii) another 20 to 30-dunam area, not adjacent to the residential area, intended for cultivation. Although the second section is adjacent to the residential area, no use other than for agricultural is permitted. This creates a feeling of wide-open space that comes with estate-living.
Moshavim — an integral part of the luxury property market in Israel
For a long time, an agricultural lifestyle has not been the main motivation for seeking life on a moshav, especially in the center of the country. Since the beginning of the 1990's, homes on certain moshavim became an integral part of the Israeli luxury property market, with transactions completed in the tens of millions of shekels. The list of prestigious moshavim in the Sharon area, located in the center of the country, extends from the northern outskirts of Tel Aviv in the south, and to the Hadera area in the north.
The last known deal in such a moshav was signed a few weeks ago. Shlomo Kramer, a high-tech entrepreneur in the field of information security, who was recently valued by the Israeli press at around $1.6 billion, purchased an estate on Moshav Bnei Zion, located north of Ra'anana, for approximately $10 million. In doing so, Kramer became the neighbor of American-born Israeli businesswoman and philanthropist, and Israel's wealthiest woman, Shari Arison. Another famous resident on the moshav is businesswoman Liora Ofer, daughter of businessman Yuli Ofer.
Sell a luxurious apartment in Tel Aviv, purchase a mansion on a moshav for the same price
Since the Corona crisis began, a significant increase in interest in private homes, in particular the private estate in Israel sector, has been reported. As a result of the pandemic, with so many people now working from home, and minimal entertainment outside of the house, the advantages of city life have been significantly reduced, from both an employment and a cultural standpoint. Furthermore, with the sharp increase in the time now spent at home, families prefer much larger properties, which give ample space for living, working, and recreation. In Israel, there is no property that offers more space than the agricultural estate, and today, owners of a luxurious apartment in Tel Aviv can sell their property and purchase a mansion on a moshav for the same, if not less, money.
Bnei Zion is considered to be one of the most sought after moshavim among Israel's highest levels of wealth and social status. Besides the Sharon area which contains dozens of such moshavim, there are two other areas that are concentrated with luxurious moshavim: one in the lowland area which contains moshavim such as Seteria, Netaim and Gan Soreq; and the other in the Jerusalem Mountains, which boasts moshavim such as Beit Zayit, Beit Nekofa, and Neve Ilan. It should be noted that transactions like Kramer's, in the tens of millions of shekels, are quite rare and recorded only once or twice every few years. More common transactions involving private estates on moshavim are usually around the 10 million shekels mark.
As Corona brings family-life back to the center of social living, there is a growing trend among wealthy families to return to private estate homes on moshavim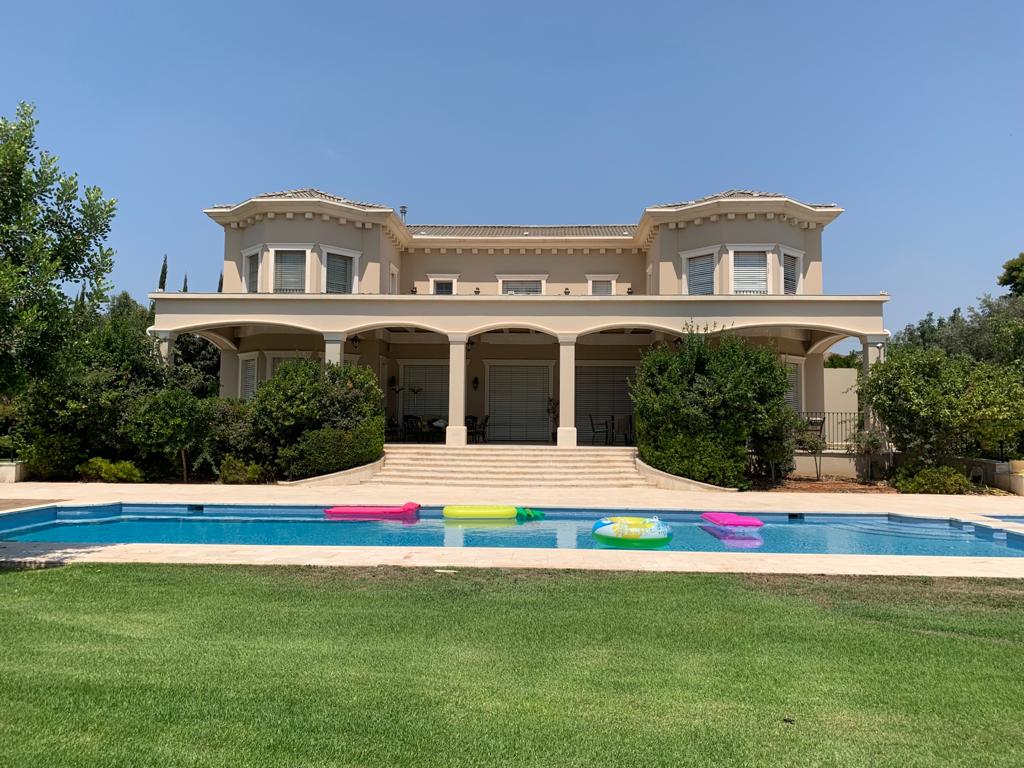 Besides estate properties, moshavim also offer "expanded" homes — neighborhoods of private homes that were built over the years, for the younger generation of the original moshav owners that wanted to continue to live on the moshav but were not entitled to inherit the estate (since each estate can only go into the hands of one heir). The expanded houses are usually set on a half-dunam plot.
One of the most complex types of real estate transactions in Israel
An estate acquisition in Israel is considered to be one of the most complex real estate transactions, since it is actually state land, while the homeowners hold the status of "land leasers for generations." This means that any deal involves heavy taxation by the Israel Land Authority, the body that manages state land. It is therefore highly recommended for anyone involved in such a deal to hire a lawyer specializing in real estate taxation in rural areas.
Another reason why transactions on moshavim are rare is that holding property on a moshav is considered to be like holding a piece of precious land that should not be given up quickly. Since today no new moshavim are being established, and it is most unlikely that any will ever be established again in the crowded center of Israel, the number of settlements is limited, and hence a high price tag is attached.
Magnificent estate home, 10-dunam, for sale in the Sharon Area