The purchase tax (known as
Mas Rechisha
) imposed on property in Israel has been significantly reduced for second homeowners and non-residents buying in Israel, in order to encourage activity within the local real estate market during the Corona crisis. The decision by the Minister of Finance, Israel Katz, was approved by the Knesset on August 29, and immediately went into effect.
Israeli residents who own more than one apartment in Israel, or non-residents buying in Israel, are considered, by law, "investors".
Until now, the purchase tax for investors has been 8% on the price of an apartment up to 5.34 million shekels, and 10% of the remaining amount above this threshold. Now, the tax steps for property investment in Israel were reduced to 5% on any value up to NIS 1.292 million, 6% on the amount above 3.877 million shekels, and three additional tax steps with the highest being 10% on any portion above 17.794 million shekels.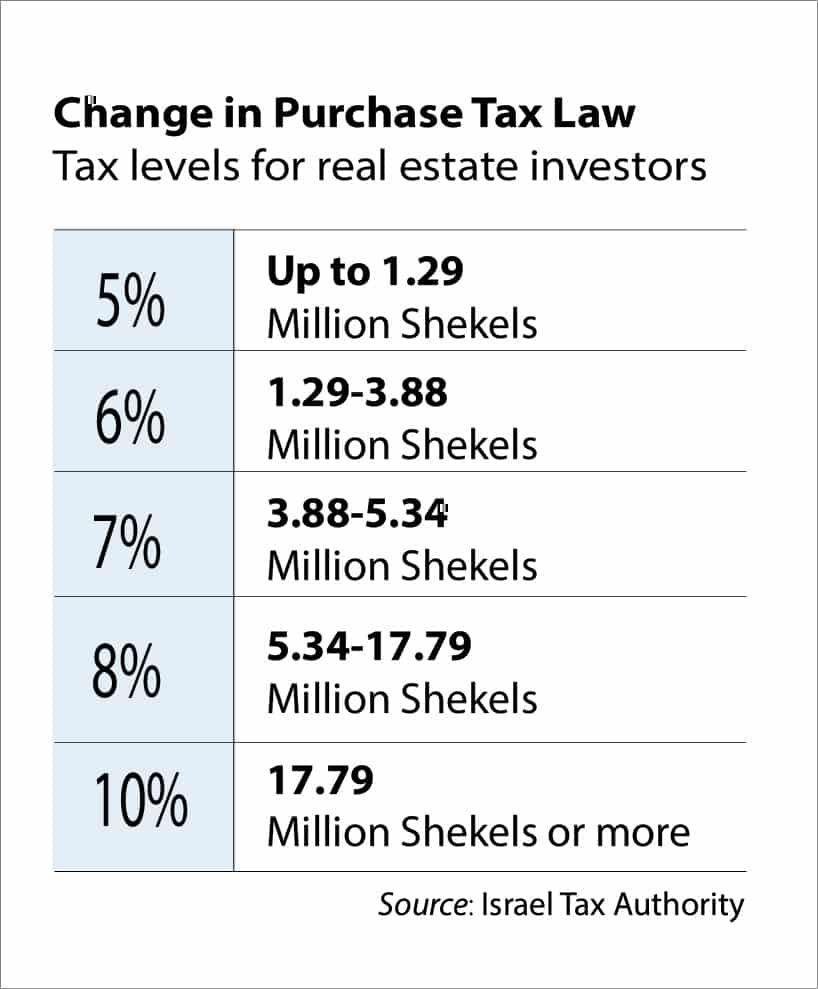 The new ruling cancels one of the most significant steps taken by former Treasury Minister, Moshe Kahlon, who, upon entering his role in 2015,  was charged with the responsibility of lowering housing prices after seven consecutive years of prices rising sharply. In order to achieve this, he took a series of steps that were intended to reduce the high demand for apartments, especially on the part of investors and non-residents buying in Israel. In June 2015, as part of this policy, Kahlon raised the purchase tax for property investment in Israel from 5% to 8%. This rate was supposed to be valid through 31 December 2020.
Property investment among Israelis and non residents buying in Israel fell after 2015 tax hike
Following the tax markup in 2015, investment activity in the Israeli housing market decreased significantly.  At its peak, investment accounted for 25% of all transactions in the market, but from June 2015, when the tax was raised, the purchases made by local investors and non residents buying in Israel fell to 13% of total transactions. As investment in local real estate was discouraged, many Israeli investors took their money outside of Israel and bought real estate in other places such as Portugal, Germany, the UK, and the United States.
About two months ago, near the beginning of the economic crisis created by Covid-19, Kahlon's term as Minister of Finance ended. The change in policy, introduced by the new minister Israel Katz,  was created in order to stimulate movement in the housing market, and to assist the Israeli construction industry, which generates billions of shekels each year, to emerge from the severe economic crisis. The Ministry of Finance also hopes that the move will keep Israeli capital in the local real estate market rather than see it flow abroad.
Property investment in Israel a less volatile market
The stock market is particularly volatile at the moment and many investors, both Israeli and foreign, have been badly burned in the capital markets. The real estate market in Israel is a stable market and yields a reasonable return. Reducing a direct tax such as the purchase tax, makes the investment only more rewarding. 
In recent weeks, Minister of Construction and Housing, Yaakov Litzman, initiated the introduction of lower purchase tax in peripheral areas only. This new ruling eliminates Litzman's initiative and includes areas of high demand as well, since this is where most real estate activity takes place. While the state may now "earn" less on individual investment transactions, the anticipated increase in the volume of transactions is expected to be worth it.
There is a concern, however, that with increasing the demand among local investors and non residents buying in Israel, first-time homebuyers may be hurt, yet again, by inflated prices, in an already expensive housing market. It is important to note that investors and first-time buyers often compete with one another on less expensive apartments, priced between 1.5 to 1.7 million Shekels. Increasing demand among investors is likely to affect the price of such apartments  –  pushing it upward.